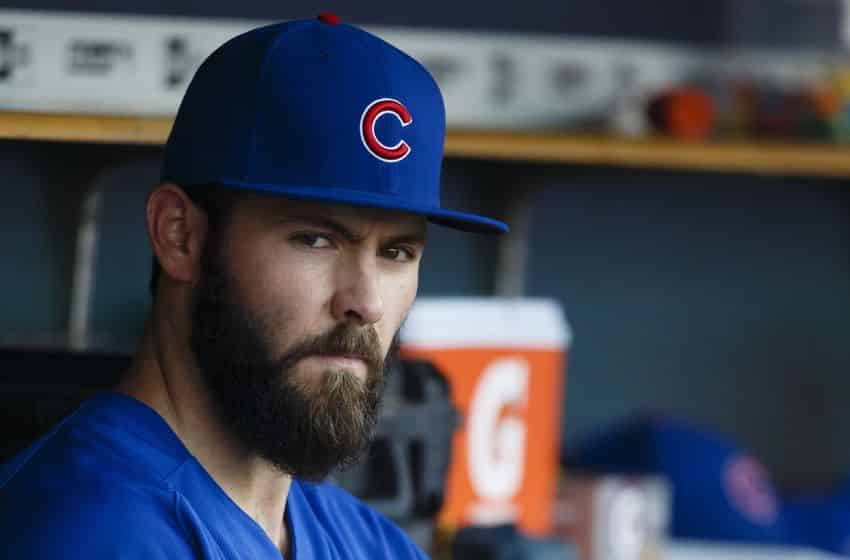 Is Jake Arrieta Still the Cubs' Game One Starter?
I know I'm doing this backwards, but I'm going to go ahead and answer the titular question right off the jump: Yes.
Whew, that was easy. Saving the big reveal for the end might have increased the tension, I didn't want to be anti-climactic or anything. I also wanted to avoid the inevitable grousing, like "of course Arrieta's the game one starter, this guy's stupid for even questioning it." But am I? You know, on second thought, don't answer that.
No one could blame you for thinking I'm being contrarian or that I'm engaging in inflammatory click-bait just to collect more eyeballs. But if you've been paying attention to Arrieta's season, not to mention those of the starters around him, my question might not sound as dumb. This isn't knee-jerk reactionary drivel following superb outings by Jon Lester and Kyle Hendricks sandwiching an Arrieta clunker, either.
Okay, maybe that is part of it. Truth be told, it's hard to ignore the fact that the Cubs' ace has allowed 4 or more earned runs in 6 of his last 11 starts while his aforementioned counterparts have combined for 6 such performances (Hendricks 2, Lester 4) in 50 total starts. There's something to be said for momentum, which could obviously shift between now and October, but it's also important to take the season as a whole.
And that's where I start to get a little worried about Arrieta. Maybe it's silly to fret over a guy who's 7th in the majors in ERA and who's got a Cy Young trophy on his mantle. After all, there was no way for him to maintain the pace that won him the award and we all knew he'd look at least slightly more human this season. What's really bothering me, though, are the walks, specifically to lefties.
It's no secret that that improved location was a huge part of Arrieta's ascension over the past few years. The stuff has always been there, it's just hard to utilize it when you're piling up 4 or 5 walks every time out. While his lack of control hasn't quite regressed to what we saw in his days with the Orioles, Arrieta's 3.48 BB/9 this season is significantly higher than the 2.30 average he'd put up with the Cubs prior to 2016. Now, about those splits.
For his career, Arrieta has walked 3.95 left-handed batters per 9 innings as compared to 2.36 righties. Those respective numbers were 2.22 and 1.58 last season, much lower and closer together in terms of both raw numbers and relative difference. Arrieta is walking 2.12 right-handed hitters per 9 innings, a perfectly acceptable number, here in 2016. Lefties, however, are drawing free passes at a rate of 5.01 per 9.
Jeff Sullivan's got a lot more on Arrieta's platoon splits over at FanGraphs and you should go check that out for all the gory details, especially if you enjoy graphs and charts and whatnot. There are also some nice side-by-side photos to illustrate the mechanical differences between last year and this for those of you who prefer more concrete visual information. I certainly don't want to steal any of Sullivan's thunder, but I'll share a couple quick snippets to give you taste:
Last week, I wrote about the curious disappearance of Arrieta's unbelievable slider. It hasn't killed him or anything, with the fastball picking up the slack, but that's not something Arrieta would've wished for. The slider going away is a symptom of something. I can present to you now another symptom of something. And it's related to the slider's deterioration — Arrieta's developing a platoon split. He's having some trouble with lefties, and, it turns out there are lefties everywhere.

***

I won't pretend like I have all the answers, but I also won't pretend like I don't see anything. We know something must be off with Arrieta's delivery, and I'm seeing some differences right up there. Maybe Arrieta just feels like he has to throw more forcefully to get that velocity he wants. Maybe things have just gone slightly awry naturally, and all he needs is a few bullpen sessions. Arrieta knows he needs to do better, the Cubs know he needs to do better, and everyone knows the Cubs have the present advantage of low stakes. There's time to work this out. Yet if the struggles keep up, suddenly the Cubs don't seem quite so invincible. I guess the other contenders need to hold on to something.
Come to think of it, I probably should have just used those quotes, added the html code for Google AdSense, and published it. The few sentences above perfectly summarized my thoughts, which are that Jake Arrieta a) appears off this season and isn't the unhittably filthy monster of 2015; and b) is still really, really good and is capable of shutting down an opposing lineup each time out.
So yeah, he's still the starter in game one of a playoff series. But it's maybe not as cut and dried an answer as it was last year, which is actually a really good thing. The Cubs are going to roll a very formidable playoff rotation out there when the NLDS opens and I can think of worse things than having Arrieta out there to lead the charge.