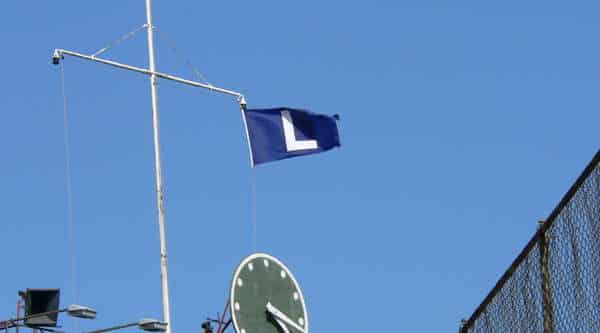 A Tip of the Recap – 7/23 (Cubs 1, Brewers 6)
Cubs record: 58-38 (1st NL Central)
W: Zach Davies (7-4)
L: John Lackey (7-7)
S: None
MVP: Kirk Nieuwenhuis (3-for-3)
The game started out on a lack(ey)luster note for the Cubs when John Lackey gave up a two-run home run to Johnathan Lucroy in the 1st inning. Lackey gave up another home run in the 4th inning to Kirk Nieuwenhuis that made the score 3-0.
The Cubs would not score until the 7th inning on an Addison Russell single that scored Ben Zobrist. However, they could not manage to get any more in and left two runners on base.
The game broke open in the 8th when Mike Montgomery made his debut and gave up a three-run home run to Nieuwenhuis. This made it the final 6-1 score.
The Good
The "tip of the cap" has to go to Zach Davies and Nieuwenhuis. Davies went 6.1 innings with 3 hits and only gave up one earned run. Nieuwenhuis belted two home runs and batted in 4 RBI in what was probably one of the best games of his career.
The Bad
John Lackey went 6 innings and gave up 3 runs on two homers. His outing wasn't horrible, but he was outpitched by Davies. The Cubs squandered a scoring chance on the top of the 7th when they left two on base, their best scoring chance of the night.
The Ugly
Lackey and the 1976 White Sox throwback jerseys are one thing, but Clayton Richard had an ugly outing. He came into the game in the 7th inning and surrendered a double before hitting a batter. Richard was quickly yanked by Joe Maddon in favor of Adam Warren, which highlights the lack of confidence the Cubs have in him currently. Montgomery's debut as a Cub was ugly too, not how he wanted to start out with a new team.
Coming Attractions
The final game of the three-games series against the Brewers will take place Sunday afternoon at 1:10 PM (CST). The Cubs will send Jon Lester (10-4, 2.89) against the Brewer's Junior Guerra (6-2, 3.06) in hopes of capturing the series win before heading to the Crosstown Classic.