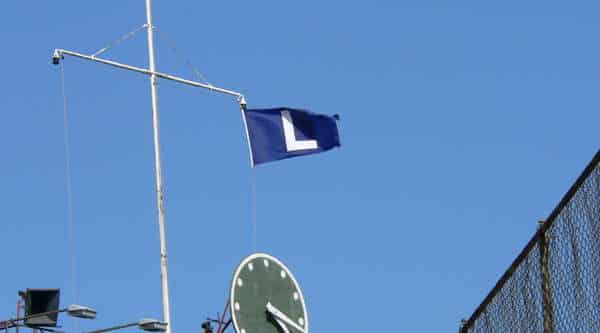 A Tip Of The Recap – 5/11 Game 2 (Padres 1, Cubs 0)
Cubs Record: 25-8 (1st Place NL Central)  
W: Drew Pomeranz (4-3, 1.80)
L: John Lackey (4-2, 3.54)
S: Fernando Rodney (10)
MVP: Drew Pomeranz: 6IP, 0R, 3H, 10K, 3BB
The Cubs looked to salvage a split of the double header against the Padres Wednesday night, not only to avoid a sweep, but to prevent their first back-to-back losses of the season. Alas, it was not meant to be for Chicago, which fell to the Fathers 1-0. Now for a look at the gory details of tonight's razor-thin Cubs loss.
Both starters, Drew Pomeranz and John Lackey, dominated the first four innings and put up matching zeroes. The Padres struck the first blow when catcher Christian Bethancourt completely destroyed a Lackey curve for a home run on to Waveland. That bomb would be the only offense San Diego would need in game two.
Pomeranz went six shutout innings and the Pads pen took it from there. Perhaps the Cubs' best chance came in the 8th inning, when a dropped pop-up from Alexei Ramirez created a bases-loaded opportunity. Jorge Soler, who has looked like he just guessing up there as of late, put on a golden sombrero as he ended the inning. Fernando Rodney converted his second save of the day in the 9th.
The Good
Pomeranz was dominant tonight for the Padres. Anthony Rizzo grounded into a double play after two singles in the first inning, after which Pomeranz allowed only four baserunners in five innings while piling up ten strikeouts. The little-known pitcher's 1.80 ERA appears to be no joke, at least based on tonight's outing.
John Lackey had his best outing of the season tonight in a losing effort. The big Texan went eight strong innings, allowing only one run on three hits with seven punch-outs, no walks, and only the one mistake. Unfortunately, that mistake was not missed and Lackey got no run support to back him up. It was very nice to see such a good outing even in a losing effort, so here's hoping he keeps it up.
The Bad
I cannot stand Joe West. I get mad just seeing his name on the list of umpires before a game. I don't blame West for the Cubs loss tonight, as they needed to hit with men on base. That being said, West's zone was awful as it normally is. Cowboy Joe's calls hosed Soler and Ben Zobrist, among others. If anyone questions the original creator of the ump show, he makes a point of taking off his mask to argue back, escalating the argument. Let's just say I will be glad when Mr. West finally hangs it up.
Soler had another rough game tonight, with four K's in four times at bat. I think I may be the world's biggest Jorge Soler supporter, so this pains me. I'm hoping he will eventually work out of this, but it is a tough stretch for Georgie right now.
The Ugly
Matt Kemp tried to make a diving catch on a Javy Baez foul ball in the 7th inning and slid face-first into the bullpen wall. Kemp's fall was very ugly looking at full speed, but thankfully he was okay and stayed in the game. The Wrigley bullpens are a very dangerous place with chairs, a phone box, and the brick wall. I'm very glad the Wrigley renovations will soon move the pens to under the bleachers.
 Coming Attractions
Friday afternoon the Pirates come to Wrigley to begin a three-game series at 1:20pm CST. Known Cub-killer Francisco Liriano (3-1, 3.60) battles Jason Hammel (4-0, 1.85) as the Cubs look to start winning again. It doesn't feel great right now, but the Cubs are still a good team, trust me.