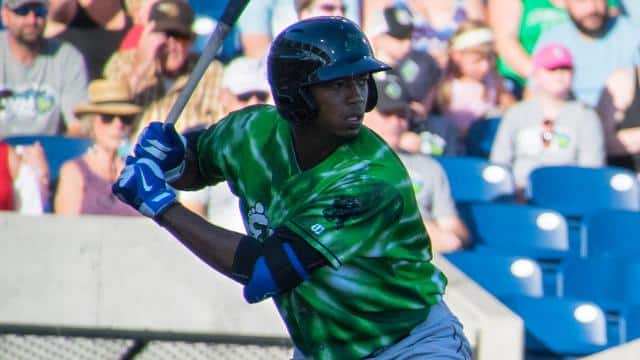 Baseball America Ranks Cubs System No. 20, But That's Not a True Gauge of the Talent Within
This past week, Baseball America released its prospect handbook. In addition to over 900 evaluations, the publication also ranked all 30 MLB teams based on their minor-league organizational talent. Last year the Cubs were number one. This year, however, they dropped all the way to number 20. I don't necessarily agree with that ranking though, and I thought the Cubs might be anywhere from 10 to 12, at worst 15.
What has caused this precipitous fall from grace? Is it that the Cubs lost too much talent in Kyle Schwarber, Kris Bryant, Jorge Soler, and Addison Russell? That is, after all, a tremendous amount to lose.
Or is it a reflection on the lack of talent in the Cubs? Not really. The Cubs have a lot talent. The problem is that talent has yet to bloom.
Currently, the Cubs boast a lot of high-risk/high-reward prospects who have yet to develop. These include Eloy Jimenez, Dylan Cease, Trevor Clifton, and Eddy Julio Martinez. Their top-ranked minor-leaguer, Gleyber Torres, was listed 29 in MLB Pipeline's Top 100. In the BP Top 100, he came in at number 41. Contrast that with last year at this same time, when the Cubs had four players in the top 20. You can't just replace that kind of elite talent overnight, but it's elite talent that drives the rankings. The Dodgers, the top organization according to Baseball America, have two of the top four prospects in Corey Seagar and Julio Urias.
In a two- to three-year window, I could see the Cubs having one of the top minor league organizations in MLB again. But right now, there are just too many prospects who have yet to fully develop.
With the major league roster set for a few years, there is not going to be a lot of change at that level. Bryant is not going anywhere and neither are Russell, Schwarber, Baez, and Soler. By the end of 2017 there maybe four to five more prospects joining them in the majors — Carl Edwards Jr, Duane Underwood, Willson Contreras, Albert Almora, and Pierce Johnson. That's going to further detract from the ranking. Then again, the role of the farm system, regardless of the ranking, is to produce its own talent. Five prospects in one year is pretty special, eight in two is amazing!.
In 2016, the Cubs' first draft selection is at 104 because they lost their top two picks by signing Jason Heyward and John Lackey. If Dexter Fowler signs elsewhere, the Cubs move up to the mid 60's. However, what hurts most is that the Cubs' bonus pool is limited to just $2.2 million – it's going to be very hard to get a lot of talent with that little money.
On the other hand, the Cubs don't really need to acquire a lot of talent this year. They can get by on drafting one to two big prospects and 35 college players. And they don't really need to sign a lot of picks either. With very few players leaving at the major league level, and a few moving up to the major league level, the need to be filled to the brim with more prospects to develop is simply not there.
Looking beyond the amateur draft, the Cubs can still sign international free agents through July 1, though they will have to pay a dollar-for-dollar penalty for prospects age 21 and under. There are a lot of Cubans still available to make up for the loss of draft picks; it's just going to cost more than they would spend in the draft.
With the penalties on the international front, the Cubs won't be able to acquire any international free agents in the 2016-17 signing period for more than $300,000. When they incurred this penalty in 2014-15, they went out and quietly acquired 30 players under the limit. Of course, that means signing 16 -year-old kids who are seven years away from helping out the big club – low-risk and high-reward kind of players.
Right now the system is not in need of an infusion of young talent. The Cubs just need to develop the talent they do have. In Bryant and Schwarber, the Cubs selected talented hitters with three years of seasoning at college. The current slate of players don't have that kind of development. Albert Almora is only 21, while Gleyber Torres and Eloy Jimenez are 19 – kids who would be entering their second semester of their freshman year of college right now. Talk to me about them in two years' time, along with Eddy Julio Martinez. In 2018, the Cubs will be back in the top 5 systems just based on the progress of the talent they've already got. That is a strength that may not be evident in the current low ranking.
If you want to be alarmed about the list and the Cubs being ranked number 20, go ahead. But in all honestly, it's nothing. Really. It's a minor-league system in flux. Just on Sunday, the Cubs released outfielders Kevin Brown and Kevin Encarnacion. There really wasn't a lot of space for them to play at Tennessee and Myrtle Beach next year because the Cubs do have a lot of depth in their system. I would not be surprised to see more minor league cuts in the next two months as the Cubs continue to deal with a surplus of prospects.
In the end, the talent is there to quickly make the Cubs a top system once again. I think they're doing just fine, so long as they continue to develop prospects for the majors. In other words, just let the system: DO. ITS. JOB.