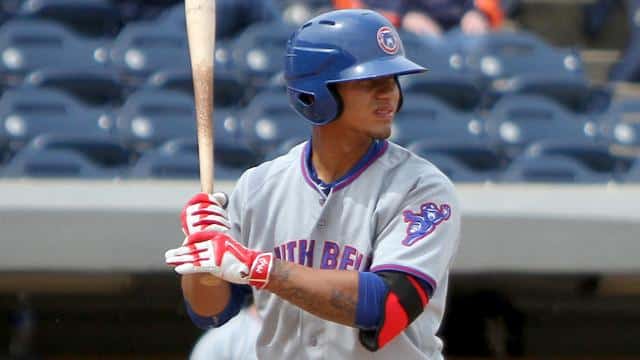 Despite Having None in Top 40, Cubs Land 6 in Baseball Prospectus Top 101
Casey Kasem wouldn't be naming off any of the Cubs' current crop of callow competitors, but that doesn't mean the system is barren. In fact, it's pretty impressive to think that the organization still managed to land six young players between 41 and 97 on the Baseball Prospectus Top 101 list for 2016. You can check the site for the Top 10 from each team in baseball, though only half of them are available thus far.
The Top 101 is but a small part of the BP's 21st annual handbook, but it's got more than a little sex appeal. Below, you'll find the six Cubs cubs listed in reverse order of their rankings, along with excerpts of BP's blurbs on each (all emphasis mine).
97. Eddy Julio Martinez, OF
…the 20-year-old Cuban outfielder still has a ways to go developmentally before he'll be scoring reservations at Alinea or 42 Grams. Martinez is likely to start 2016 in South Bend (best restaurant according to TripAdvisor: LaSalle Grill), where he will start to answer the questions about his power potential and ultimate defensive home in the outfield.
83. Albert Almora, OF
But while the power remains nascent he made notable progress in upping his previously abysmal walk rate at Double-A last year, and he continued to make contact at a fine clip. He shines in the field, and though he lacks for much more than average raw foot speed he is blessed with an innate ability to anticipate and read contact. It remains an open question whether the offensive package is likely to get to first-division caliber, but the defense and drive should be more than enough to grant him an audition to find out in the near future.
74. Billy McKinney, OF
If "left-field profile" is pejorative, "tweener" is an epitaph. But we come to praise McKinney, not to bury him. He is, after all, the 74th-best prospect in baseball. True, he doesn't have the foot speed for center field, nor the arm for right, and his yearly total of dingers should just barely creep into double digits once his game power fully develops. What he can do is engage that most primal of baseball skills: See ball, strike ball. If we were to rank these same 101 prospects just on their hit tools, McKinney would be much higher, and not just because there are a lot of pitchers. He could be a perennial .300 hitter in an era when that is a very rare thing.
67. Ian Happ, OF
If you happened upon him in his professional debut last summer, you saw a switch-hitting outfielder who never looks hapless from either side of the plate, and
shows enough present-day feel and approach to move quickly through the minors. Happ is not quite athletic enough for center field, and has run out to all three outfield positions so far in his brief pro career. There is some thought that he might be able to play second base, so there is no need for the Cubs to make a decision about his ultimate defensive home haphazardly.
57. Willson Contreras, C/3B
Contreras came somewhat late to catching, as the Cubs signed him as an infielder out of Venezuela, and he spent his first three professional seasons playing mostly first and third. But he's taken well to the tools, and is a good bet to be at least an average defender behind the plate. That said, it was the development of his bat over the last year that marks him as the best catching prospect in baseball. Contreras hit .333 in Double-A and set a career high with 34 doubles; his approach and plate discipline took a step forward as well. It was a true breakout season, and another voyage of self-discovery could rocket him into the top echelon of prospects next year, assuming he doesn't hit his way to Wrigley first.
41. Gleyber Torres, SS
Torres may remind you of Starlin Castro, although not so much Castro the wizened veteran but Castro the prospect. He shows the same precocious hitting ability (Torres hit .293 as the youngest player in the Midwest League), and there are also questions about whether he sticks at shortstop long term. Torres cost the current Cubs front office a few pretty pennies more than the $45,000 that Jim Hendry and company paid for Castro, but if he can produce the same results at the plate, it's unlikely there will be much quibbling over the $1.7 million "splurge."
---
I'm not going to spend a great deal of time dissecting these blurbs, as I'm certainly no more qualified to provide assessments than the men who put them together. I would, however, like to express a bit of surprise at the fact that EJM made the list despite not having played stateside yet. Billy McKinney's ranking struck me as a bit high as well, particularly given his relatively narrow path to the Bigs. Basically, he make it as a left fielder or he doesn't make it.
I absolutely love the write-up on Almora, a kid for whom I've had a soft spot since the Cubs drafted him. Sure, many people can and do say the same thing about lots of top draft picks, but he's one of the few on this least I've gotten to see in person more than once (now that I think about it, Happ and Martinez are the only two I've not seen live). Seeing Almora glide to the ball out in center and drive a hit into the gap in right-center against an outfield that had shifted him to go there made really pine for that kind of player at Wrigley.
Happ seems to really be making waves in among prospectniks, so his inclusion was pretty much granted. The same can be said for Torres, who packs some serious power in that lithe 6-1, 175 lb frame. I was lucky enough to see him smash a home run deep into the Winston-Salem night during the Southern Division playoffs, and the sound it made said as much as any scouting report. Okay, it may not have been that illuminating, but it sure told me a lot about his potential.
Despite being below Torres on the list, Willson Contreras has the best shot to see some time with the Cubs in the near future. It's entirely possible that he could take over as the club's full-time catcher as soon as 2017. While the power isn't on Kyle Scwharber's level, Contreras may force the Cubs into a similar decision in terms of getting him into the lineup. At the same time, the current makeup of the roster affords the team the ability to let his skills behind the plate mature.
We're not going to see another minor-league graduating class like the one the Cubs had last season, but this list is proof that they've got plenty of capable students matriculating through the system. That's the key to this whole thing too, this idea of maintaining a constant flow of talent. It'll probably be a while before we see any of these kids in Chicago, so in the meantime keep your feet on the ground and keep reaching for the stars.