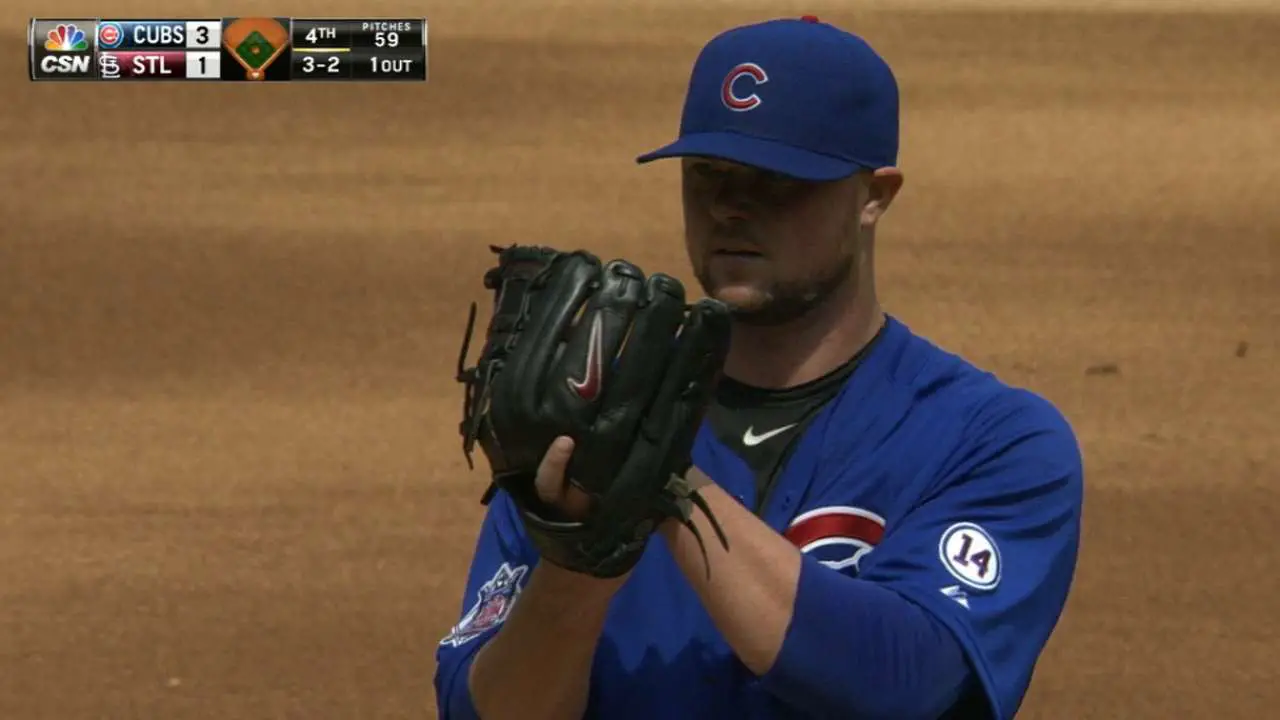 Cubs Report Cards: Jon Lester Goes From Overpaid Ace to Celebrated Number Two
I suppose I should have added something about perception to the headline, but I couldn't really find a way to make it fit. Besides, leaving it out makes it feel a little more clickbaity and I need the hits. I also need to keep this shorter than the Kyle Schwarber piece from the other day, so I promise not to go down too many rabbit trails.
Expectation has a funny way of directing people's assessments of athletes, and becoming the highest-paid free agent in Cubs history (at the time) had dumped a load of manure at Jon Lester's feet. Of course, it didn't help that by giving up 15 earned runs in his first four starts in a Cubs uniform, Lester appeared about as adept at shoveling shhhh as he was at throwing over to first base.
That latter little idiosyncrasy got more than a little play, almost as though it was a new thing. In truth, the only thing new about Lester's lack of a pick-off move was Cubs' fans realization of it. On the other hand, $155 million does buy you a mighty bright spotlight. But just as being named the de facto ace shined it directly in Lester's eyes, Jake Arrieta's ascension stole it away. Before I get into that, however, a quick tidbit on the highly-paid lefty's performance:
What would you say if I told you your team could have a pitcher ranked in the top 8 in the National League in FIP (2.92 – 8th), xFIP (3.06 – 6th), SIERA (3.19 – 6th), and WAR (5.0 – 8th), but that said pitcher would come at a very high price? Would you be willing to have the Cubs front office pony up for such an acquisition? Well, the question is academic at this point, since that's exactly what they did in luring Jon Lester to Chicago this past Winter.
So that's pretty good, huh? Despite a slow start and a bit of inconsistency in the intervening months, Lester ended up with a season most pitchers would be quite proud of. It's a season he should be proud of. But I wonder how proud the blue-clad masses would have been had their "ace" been a guy with an 11-12 record. Please understand that I'm not placing any weight on pitcher wins and losses myself, but it'd be silly to believe everyone else feels the same way. Enter Cy Young.
It might sound counter-intuitive, but Lester being pushed back to second fiddle by Arrieta's absolute domination down the stretch might have been the best thing for the $155 million man's perception. Beat writers found new doors to bang on, meatballs found new plates of spaghetti in which to laze, and the veteran lefty could once again be seen for what he was: a really freaking good pitcher. Kinda funny that after all the erroneous talk of Lester pitching like crap, it was the reality of becoming number two that finally cleared things up.
By nearly every statistical measure 2015 was one of Lester's best seasons, and the advanced metrics above indicate that a little bad luck prevented it from being even better. To whom much is given much is expected, and the southpaw largely delivered on the big free agent offer he accepted. The rocky start (actually a bit of a Lester trademark) set him back a bit, but he recovered admirably and improved his grade significantly. He didn't up at the head of the class, but he wasn't too far back either.
Final grade: B+
Other grades: