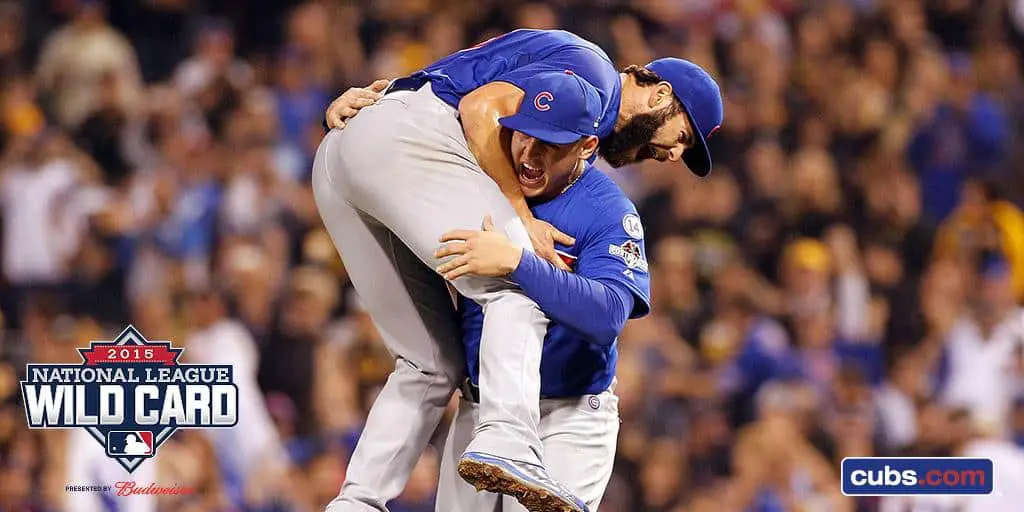 A Stream-of-Consciousness Account of My Wild Card Viewing Experience
I am exhausted from 3 days of travel. No one else is home…yet, so I watch the pre-game alone. I am not nervous. I am wearing a blue Sandberg jersey.
Open bomber of 3 Floyds' Permanent Funeral and pour it into antique Cubs mug
Perhaps it's the TBS broadcast team, but this feels surreal. Still not nervous.
Funny thing about a "blackout:" you can really see the Cubs blue in the stands. I see Jon Herrera wearing a plastic batting helmet with disembodied hands glued to it and I fall in love. I am confident.
The TBS strike zone rectangle seems DEXTER FOWLER LEADOFF SINGLE (clapping)
I hear the neighbor's dog's tags jingling and jangling in my back yard and I get up to make sure he's not taking a dump
STEAL
I tell myself I won't write about every play throughout the whole game because no one's going to read it anyway and the ones who actually do are going to give up quickly
WAR BEAR SINGLES TO SCORE FOWLER AND THE CUBS LEAD 1-0
Kris Bryant grounds into a double play and I feel like the Pittsburgh crowd, which is to say I'm a bit deflated. And then Anthony Rizzo looks a bit lost against Cole and home crowd is in full throat once more. Rizzo hits into the shift but is safe when Sean Rodriguez — who looks like he drove to PNC Park in a T-top IROC-Z or a late-60's fastback Mustang with louvres on the rear window.
My wife and kids get home and my son says, "I even wore Cubs underpants!"
Gregory Polanco strikes out looking to lead off the bottom of the 1st and I spend the remainder of the inning looking for online tools to flip text so I can type Jake with a backwards K. Every site I find flips every letter but K and now I am both frustrated and ashamed.
I am hopeful that Starlin Castro will give me the opportunity to post one of my signature fun pictures of him but he is thrown out after chopping one to Cole. I exclaim something unintelligible and consider throwing the red challenge flag but then realize A) I'm not the manager, and B) baseball doesn't use challenge flags.
My daughter has an upset stomach so my wife gives her pink bismuth liquid (non of that fancy brand-name stuff here; daddy's got to be able to afford his expensive beer) and she pukes up day-glo pink on the bathmat. I clean it up because I'm awesome. Also, the game is on commercial.
I am still trying to figure out how to create a backwards K, but now I'm doing it while getting a bowl for my daughter, who will be joining me to watch the game. It's like the MJ flu game, only she's actually sick and is just watching a game and not playing in the NBA Finals.
WAR BEAR!!!!!!!!!!!!!!!!!!!!!!!!!!!!!!!
I am yelling very loudly. I now have a headache. The Pirates' bullpen is active. It is the 3rd inning. This makes me happy. Not as happy as seeing Kyle Schwarber abuse that breaking pitch from Gerrit Cole, but I am quite pleased. Even seeing Kris Bryant doubled up on a Rizzo blooper (which makes 2 DPs for KB thus far) can't bring me down. I am not nervous.
I pour another Permanent Funeral and survey my Pinterest fail from earlier, the apple roses I created after seeing a video on Facebook. I used Honeycrisp apples, which was dumb because A) they're, well, crisp and don't lend themselves growing pliable, and B) they're expensive as all get out.
My son is eating my multi-grain pita chips, despite me telling him that I also got beet chips. Yeah, okay, so I had a wild hair at the grocery store earlier.
As the live shots from all the other Cubs fans celebrating en masse continue to roll, I feel as though I'm missing something. Then I realize that I'm kind of a misanthrope when it comes to people I don't know and also that this is my only day at home this week and I think better of it.
Tommy La Stella bats again and I remember the time I was watching the Cubs from a bar in Tempe. They were playing the Pirates and Kris Bryant moved out to CF; I looked over to La Stella and was all, "Wha?" He was all, "Bryant's playing center?!"
Have I mentioned how awesome it is that Kyle Schwarber has all 3 Cubs RBI so far? Because it is. I can't really figure out how to go back to my tweets from when they drafted him, but I can assure you they were awesome and also showed a great deal of faith in the pick.
Can we talk about this Viagra commercial with the woman tossing a football around while wearing a football jersey with the blue hue for which the titular pill is known? I mean, this is a BASEBALL game! Is it that hard (pun intended) to pony up for a woman in a baseball jersey?
DEXTER FOWLER HOME RUN
But back to the Viagra ad. I don't get it. There is very little I find sexier than a woman who knows about sports — the night I met my wife, she was touting her Bulls and Bears knowledge (she grew up a Sox fan but has since converted after seeing the error in her ways — but they're totally overdoing the thing. Also, this is a BASEBALL game.
A two-seamer from Arrieta gets up in Francisco Cervelli's hands and the home crowd boos as though it was intentional. Ugh. Oh well, I guess I'd be upset if my team was getting worked over for the second straight year by the opposing team's ace. And what did Arrieta do after that ball just nicked Cervelli's finger? He got Walker to line out and then abused Mercer and Alvarez.
Those dudes didn't wanna battle, they were shook. I'm sure most of you won't pick that up right away — unless you were following my obnoxiously constant tweeting — but that was a nod to 8 Mile, the final battle of which is probably one of the greatest cinematic moments in history. Seeing B. Rabbit up there just eviscerating Papa Doc and the rest of the Free World crew was hair-raising.
As an aside to that aside, I'll never forget seeing Babs Streisand's face when she announced the Oscar for best original song. She opened the envelope and appeared somewhat aghast before saying, "Eminem." That was just great.
Anyway, Arrieta just appears to be so completely in control of things and the Pirates hitters know it. I'm just amazed that all the asinine stuff the Pirates fans were planning hasn't thrown the best pitcher in baseball off his game. C'mon, man, you think chanting "Jake from State Farm" is going to put this guy on tilt? Cubs fans started that! Oh, and about the whining over Arrieta's "trolling."
When he said that stuff about doing what makes you feel safe or whatever, that none of it mattered, he wasn't saying that he was going to destroy them or anything. He was simply saying that the chants and such wouldn't impact him, that he's able to block that stuff out. Nuance is lost on people, though that's somewhat inherent in a medium like Twitter.
My U-Verse just went out. Are you kidding me?! This is the third time this has happened in the last week and by the time I power-cycled it and got the signal back, the Pirates had 2 men on. Now Cutch gets an infield hit, though I still think Russell should have DOUBLE PLAY TO END THE INNING!!!!!!!!
More PF for me, this live-blogging is hard work
Ah, hit changed to an error, good call.
And ARRIETA IS HIT BY A PITCH AND IT WAS INTENTIONAL AND YOU'RE A PUNK AND MR. CAMARO MULLET SEAN RODRIGUEZ NEEDS TO CHILL THE F OUT. The benches clear in a fun show of machismo and it's clear Rodriguez is sporting a murder boner as he tries to get fake swole on the Cubs. Now he's pulling a Carlos Zambrano on the Gatorade jug the Pirates won't be dumping on anyone later. I can just hear him now: "You're full of [expletive], Great Clips! I told you I wanted to look like El Debarge, not the Cuban Billy Ray Cyrus! I'm gonna achy break my hand in a show of anger now!"
And now they're showing Hot Rod jawing at the Gray Wolf and throwing a punch. And not even a good one like the combo he unloaded on an inanimate object shortly thereafter. Dude, what a doucher. Speaking of, how big a floating turd is Tony Watson? You hit the opposing pitcher in a game in which you're down 4 runs late? That is the height of stupidity.
And now I learn that Rodriguez has been suspended and I'm sort of happy, but I really want to see him break his hand by punching a wall again. I am still not nervous.
As I mentioned earlier, I've been tweeting up a storm this whole time, which has resulted in some mad dope content. I mean, I've been spitting some hot fire. Much of it has been about mullets, whether it's Rodriguez or the Jonathan Taylor-Thomas reboot in the Pirates gear. Or was it Penguins? Shoulda been Pens, 'cause the hockey hair woulda fit better.
I feel a little bad for the reply I sent the AT&T rep who replied to my angry tweet, but it was all in good fun.
.@ATTCares I'm good now, no longer mad online like Sean Rodriguez. I punched a cooler and it's all better. Thanks though.

— Evan Altman (@DEvanAltman) October 8, 2015
Oh man, now Michael Morse and his mangy mullet collects a hit to make Arrieta look like a mere mortal once more. The King in the Norf corrals a fly and now there are 2 outs in the 8th. I haven't peed since this game started and I might end up soiling my chair before I get the chance to put the computer down again. And if you're worried about my daughter, she's all good. Sleeping like a champ, no more vomit. My son's down here too, asleep of course.
I think I've picked up at least 15 Twitter followers during the course of the game, most from my "I'm Sean Rodriguez, and I have cable" tweet. This guy is a horse that I beat to death and then delivered to the glue factory and now I've got a stir stick in the tub of paste.
Going pee now, sitting down so I can still type if I need to
Oh my gosh, you guys, I feel like a new man. Maybe not a better one — and now my daughter's hand is hitting the trash can I laid out for her to puke in and it's weird — but one with less risk of sepsis from a burst bladder. Mark Malancon's on for the Pirates, who's fans are still energetic enough to half-ass a "Let's Go Bucs" chant in order to avoid questioning their anti-Arrieta strategy.
And Addison Russell ropes a ball down the 3B line and…wow, Starling Marte is rull, rull good at picking up baseballs and throwing them to other players. Russell was out easily at second and that was two bases all day. He's a doubles machine and he still didn't get it. Well played, Starling. See, Pirates, it's not that hard to just make good baseball plays and not be turds.
Ron Darling relating Cole Hamels to Jake Arrieta is kinda silly, but I kinda get what he's saying in terms of the situation. But despite Hamels' no-no — and wasn't that a depressing day for Cubdom? — he's not even in the same league as Arrieta. Seriously, after the trade, he's truly no longer in the same league. And now the Pirates are down to their last out and are about to be shut out.
AND THERE'S A W FLAG. AND PIRATES FANS ARE WALKING OUT AND "LET'S GO CUBBIES" CAN BE HEARD ON THE BROADCAST.
The Cubs just won the game and I am incredibly happy right now. I'm happy for Jake Arrieta, who just got punched by Jon Lester and Joe Maddon, neither of whom was in Chicago last season. Arrieta just did what everyone had been saying he would do. All day, I'd been hearing fans and experts alike talking about how good he'd been and how he would shut down the Pirates.
As a long-suffering Cubs fan, part of me worried about that. But Arrieta did exactly what everyone had predicted.
And now the Cubs have crowded together for a huddle more reminiscent of a football or basketball team, chanting "We never quit!" over and over. I've been reluctant to say it, but this team has overtaken the '84 squad as my all-time favorite. I named my son Ryne.
Arrieta showed more emotion after this win than he did after the no-hitter, and seeing Starlin Castro secure that final out and then throw his hands in the air with a huge smile…man, that was great. Now I'm listening to Pedro Martinez trying to invoke the unwritten rules in terms of hitting guys NEXT YEAR. But Pedro was all about plunking dudes, so whatever I guess.
I should tie this up now because I just heard Clint Hurdle question Arrieta's intent with the batters he hit. Yeah, because that would make all kinds of sense. This is stupid and I need to be happy.
On to St. Louis and what is sure to be an incredibly insane series. Good times. Still not nervous.