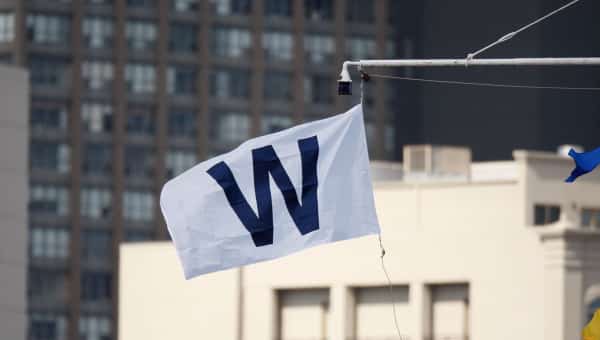 A Tip of the Recap – October 4th
The Cubs finished the regular season on a high note, winning their 8th game in a row and finishing with a 97-65 record after a 3-1 victory over the Brewers. 
The Good
Dan Haren turned in a great start in what will possibly be the final regular season start of his career. He pitched 6 innings, giving up just 1 run (earned) on 3 hits and a walk with 3 Ks. He did give up some hard-hit balls, but for the most part was in complete control today. He finishes the year with a 11-9 record and a 3.60 ERA.
Anthony Rizzo joined the 100 RBI club in the 1st inning with a 2-run single to RF to get the Cubs on the board. It was his only hit of the day and he finishes the regular season with a .278 AVG, 31 HRs and 101 RBI.
Kris Bryant stayed stuck on 99 RBI but still had a very productive day at the plate, going 1 for 1 with a single, 3 walks and a run scored. The eventual Rookie of the Year finished with a .275 AVG, 26 HRs, 99 RBI, 77 BBs, and 199 Ks. He also made a tremendous play at 3rd in the bottom of the 9th, going to his right and making a very strong jump throw to get the out.
Justin Grimm, Neil Ramirez and Travis Wood turned in 3 hitless innings of relief to finish the game. Ramirez's inning was perfect with a K and if he is back to form he can be a big boost in the playoffs. Travis Wood came in for the save and earned his 4th save with a perfect inning as well.
The Bad
There was not one thing that was bad about this one, the Cubs grabbed an early lead and held on all the way through. It is unfortunate that the Pirates also won today, but the Cubs are comfortable on the road and play well in Pittsburgh.
On Deck
The playoff-bound Cubs will play in Wednesday's Wild Card game against the Pittsburgh Pirates. Game time is set for 7:05 PM (CST) on TBS and the starting pitchers for this game have seemingly been set for the entire month of August. Jake Arrieta (22-6, 1.77) will get the chance to lead the Cubs to the NLDS as he faces off against Pirate ace Gerrit Cole 19-8, 2.60).