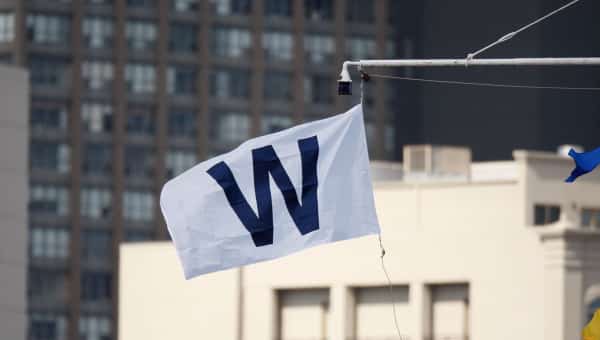 A Tip of the Recap – October 2nd
The Cubs stretched their winning streak to 6 games and are now 30 games over .500 after a 6-1 victory over the Brewers tonight.
The Good
Jake Arrieta was up to his usual tricks tonight, going 6 shutout innings to earn his 22nd win of the year. He was going to be on a pitch limit of around 90, but Joe Maddon pulled him after 72. He stretched his streak of quality starts to 20 and his 0.41 ERA since August is the lowest in MLB history (10 starts).
Arrieta surrendered just 2 hits with 0 walks and 7 Ks on his way to lowering his ERA to 1.77. A month ago it was said that he would definitely get some love in the Cy Young vote, but at this point I would be disappointed if he didn't win the award. He has had a historically impressive season and I don't know how he can't win it.
The offense was solid tonight with 4 different Cubs having a 2-hit day. Anthony Rizzo was 2 for 4 with a solo HR (his 31st) and a 2-run single. He is now tied with Kris Bryant for the team lead in RBI at 99 and it will be fun to see which one gets to the century mark first this weekend.
Starlin Castro had another 2-hit day, going 2 for 5 with 2 doubles (23 on the year), with one of them driving in Rizzo from 1st. He now his hitting .269 with 69 RBI; nice!
Addison Russell properly struck the ball a couple times today with 2 doubles of his own. One of the doubles was about a foot from going over the wall. He is now hitting .244 with 29 doubles this season.
Tommy La Stella looks better and better each day he gets to play and today was no exception. He went 2 for 3 with his 6th double and his 11th RBI. He pulled a couple pitches sharply into RF and if not for a good defensive play by the CF he would have had 2 doubles. He looks like a lock to me to start at 2nd base in the Wild-Card game.
The Bad
Today was a great game all around and Joe Maddon was able to do what he wanted with Arrieta and his pen. He got Arrieta out when he wanted to and the offense gave him enough to not have to second guess his decision. Hopefully the Cubs can keep this going because they will need to sweep the Brewers to have a legitimate shot at hosting the Wild-Card game.
On Deck
Game 2 of the series will be tomorrow night at 6:10 PM (CST) on CSN. Kyle Hendricks (7-7, 4.09) will look to build on his best stretch of the season (3 quality starts out of his last 4 starts) as he faces off against Tyler Wagner (0-1, 11.74) for the Brewers.