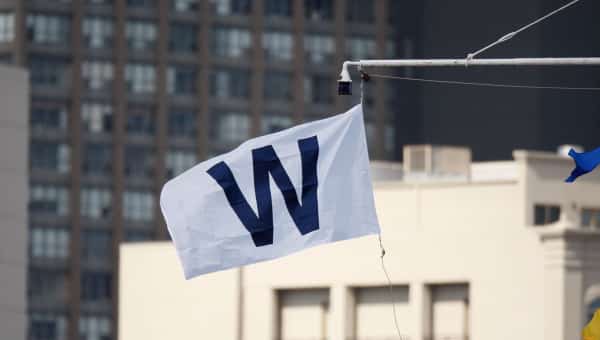 A Tip of the Recap – September 27th
Jake Arrieta did his thing, combining with Travis Wood on a 1-hit shutout while the bats did enough for a 4-0 win over the Pirates tonight.
The Good
Jake Arrieta was up to his normal tricks tonight, even carrying a perfect game through 6 innings before giving up a lead off single Gregory Polanco in the 7th. He finished with 7 shutout innings, surrendering just the 1 single with no walks (he did have an HBP) and 9 Ks. He improved to 21-6 on the year and lowered his ERA to 1.82.
Arrieta also did some of the offensive lifting on his own with a solo HR to right-center. It was his 2nd HR of the year and since June 12th he has hit 2 HRs and given up just 2 HRs; pretty impressive.
Kris Bryant got the Cubs on the board with an RBI single up the middle in the bottom of the 1st to score Dexter Fowler. He added another single later and finished the day 2 for 4 to give him a .282 AVG to go with his 99 RBI (leading the team in both now).
Starlin Castro had a huge 2-run double — that was called a 3-run HR at first, but after further review turned into his 20th double instead — in the bottom of the 7th to give the Cubs a 4-0 lead. He also had an infield single earlier in the game and is hitting .264 with 66 RBI on the year.
Travis Wood closed out the final 2 innings of the game, surrendering just 1 walk with 2 Ks. He touched 94 MPH on his fastball a couple times and looks to be a very valuable piece of the pen going into the playoffs.
The Bad
Jorge Soler had a couple chances to really put some runs on the board early, but couldn't come through with a timely hit. He left 6 men on base and actually came up in the 1st with the bases loaded and 1 out and couldn't get anyone in when he struck out.
He had the same thing happen at the end of game 1 of the series with the tying run on 3rd and 1 out and again struck out. He has only been back a few games from his oblique injury, but some contact in run-scoring situations wouldn't be a bad thing.
If that sounds like a kid complaining about getting an A- instead of an A, I agree with you. The Cubs still won tonight and a "W" is all that matters, but it would be nice to tack on runs with runners in scoring position and less than 2 outs and Soler let a chance slip through tonight.
On Deck
The Cubs will host a make-up game with the Royals tomorrow night at 7:05 PM (CST) on CSN. Kyle Hendricks (7-7, 4.23) will look to build on his solid start (6 IP, 3 ERs, 8 Ks)  last time out against Yordano Ventura (12-8, 4.40) for the Royals.