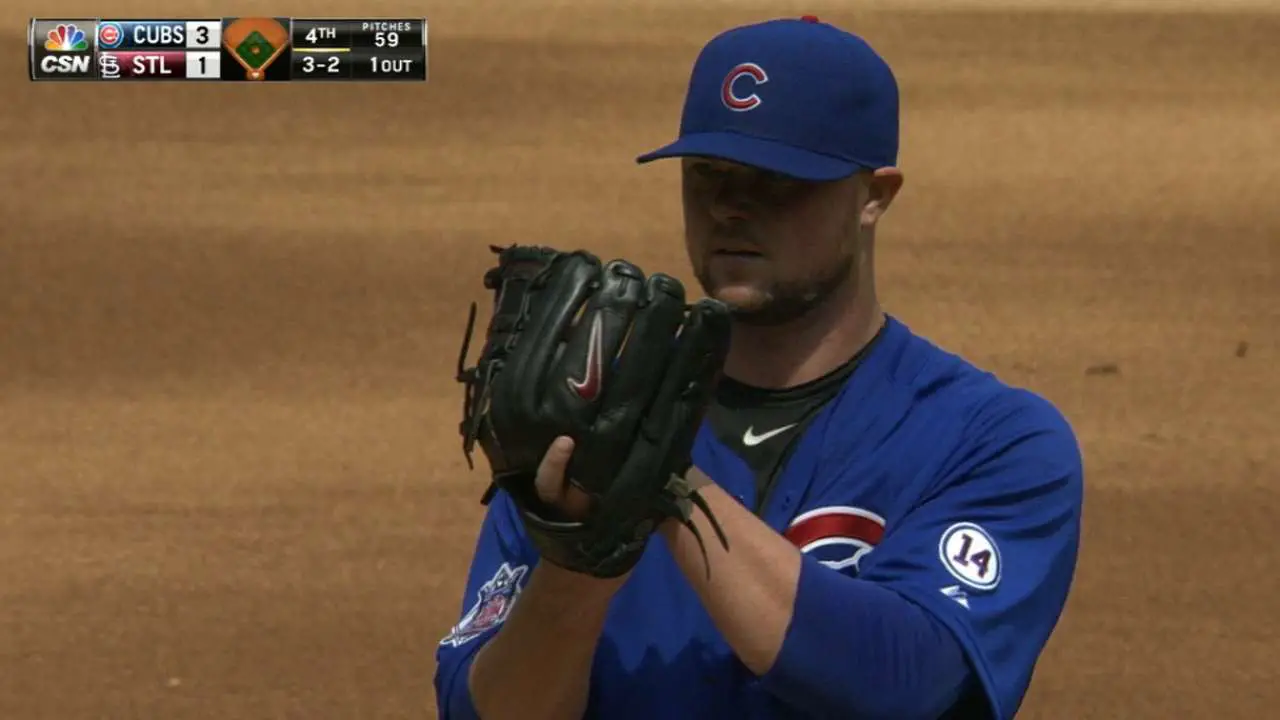 The Rundown: Bullpen Spoils Great Outing by Lester, Schwarber Returns to Lineup, Pelicans Drop First Playoff Game
Yesterday I realized that I've been writing here at Cubs Insider for over a year. The time really flew by.
Thanks go out to Evan for letting me spout words at you every morning, and thanks to everyone out there who reads my stuff.
It has been a very exciting year in Cubdom, and it has been a blast writing about it.
Yesterday's 4-3 loss was definitely not one of the high marks of the year, however, as the Cubs' bullpen ruined a great start by Jon Lester. The veteran lefty went 7 innings and gave up only two hits and one run. He struck out seven Cardinals.
Unfortunately, Pedro Strop, Clayton Richard, and Fernando Rodney couldn't protect a two-run lead in the 8th inning — and just like that, the Cubs missed out on sweeping St. Louis. Obviously disappointing, but in retrospect, grabbing 2 out of 3 on the road is a pretty nice accomplishment.
The Cubs now head to Philadelphia, which in theory should be a good thing. But remember that the Phillies swept the Cubs at Wrigley Field back in late July. Luckily they won't have to face Cole Hamels again.
Return of the Schwarb, part 2
After pinch-hitting Tuesday night, Kyle Schwarber returned to the starting lineup yesterday.
However, he appeared to be a little rusty. Schwarber went 0-for-4 with four strikeouts.
Nothing scientific, but I feel like often after Schwarber has had similar performances, he has gone out the next game with a vengeance. So if he hits a home run or two today, don't be surprised.
About those 3:05 Friday starts…
Joe Maddon doesn't like the 3:05 Friday starts at Wrigley, so the Cubs are considering playing more 1:20 affairs next year, writes Paul Sullivan.
The switch to 3:05 was intended to please fans, who would be able to take off work early on a Friday to catch a game at Wrigley — as opposed to having to take an entire day off work.
Personally, I like the start time. However, Maddon feels like it messes with players' routines, especially when games may fall at 7:05 one night, then 3:05, followed by 1:20.
I get it. And if Maddon feels this is a disadvantage, then I'm OK with the Cubs making the change.
Other notes
* The Myrtle Beach Pelicans dropped their first game of the playoffs to Winston-Salem yesterday. Starter Duane Underwood gave up four runs on a pair of home runs, and the Pelicans offense only managed five hits. One of those hits was a homer by 18-year-old shortstop Gleyber Torres. Excellent.
* Starting for the Winston-Salem Dash was Carson Fulmer, who was drafted this year by the White Sox in the first round (one pick before the Cubs took Ian Happ). He went 3 innings and gave up one run.
* The Cubs have announced a new director of pro scouting: Jared Porter, who comes over after spending 12 years in the Red Sox organization. The Cubs' former pro scouting director, Joe Bohringer, will remain with the organization, the team announced.