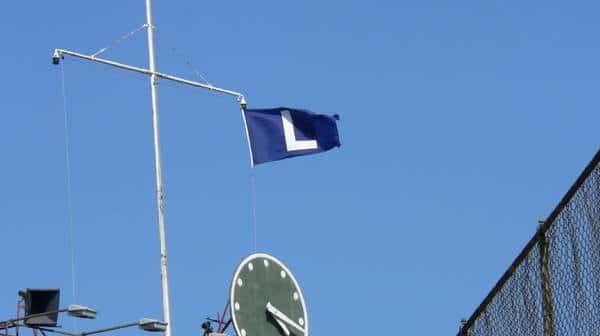 A Tip of the Recap – August 31st
The Cubs played probably their worst game of the 2nd half and frustratingly dropped the first of a 3 game series with the Reds by a score of 13-5 tonight.
The Good
Dexter Fowler, Kyle Schwarber, Kris Bryant and Addison Russell accounted for the runs tonight with Russell hitting a 2-run double (24th) to the LF corner and adding a solo HR (his 10th) to give him 38 RBI on the year. Fowler went 2 for 5 with his 25th double and new career high 15th HR.
Kris Bryant reached base 3 times with a walk and 2 singles, including an RBI infield single for his 80th RBI of the year. He got the start in RF tonight and may see a bit more time in the OF with Javier Baez getting called up tomorrow. Bryant handled a couple plays out in RF without any issue.
The Bad
Kyle Hendricks struggled again tonight and only made it through 5 innings, giving up 3 runs on 5 hits and 3 walks with 4 Ks. He wasn't terrible, but he has consistently failed to go deep in games this year and, in my opinion, is in a spot that the Cubs would not guarantee going forward. He got a no decision and was actually in line for the win before Justin Grimm completely imploded in the 6th.
Grimm was hit hard early and often in his appearance tonight, giving up two separate 2-run HRs to the Reds to turn a 5-3 lead into a 7-5 deficit. He only retired one hitter and gave up 4 earned runs on 3 hits and a walk. He hadn't given up a run since July 20th, so he was probably due for a little regression, but tonight was not good at all.
Travis Wood was very bad in relief in the top of the 9th as he walked 3 guys and retired just 2 before he was replaced by James Russell. And James Russell was a combination of bad execution and just plain old bad luck with horrible defense from Castro in the inning.
In all, Russell allowed 3 inherited runners from Travis Wood to score and also allowed 3 runs of his own. None of the 6 runs the Reds scored in the 9th, however, were earned thanks to 2 errors from Starlin Castro. He botched a hard hit grounder right to him and then couldn't handle a throw at 2nd from Addison Russell that literally just went off of his glove. In all, Castro had 3 errors tonight and it would be a huge surprise to see him out there tomorrow night with Baez coming up from Iowa.
On Deck
Game 2 will be tomorrow night at the same time: 7:05 PM (CST) on WGN. Dan Haren (8-9, 3.90) will get the ball for the Cubs against Anthony DeSclafani (7-10, 3.84) for the Reds.