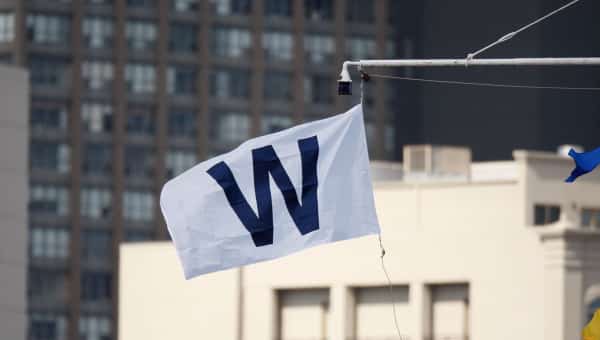 A Tip of the Recap – August 4th
The Cubs ran their winning streak to 6 games after Jake Arrieta dominated en route to a 5-0 victory over the Pirates tonight. The Cubs are now 11 games over .500 on the year.
The Good
Every Cubs starter except Dexter Fowler (who had a walk) had at least 1 hit as the offense pounded out 14 knocks on their way to 5 runs today.
Anthony Rizzo continues to rake and finished 4 for 5 with 2 doubles (28 on the year now) and 2 runs scored. He actually should have been 5 for 5, but a bloop dropped in front of Marte in left and the runner had to hold close to 2nd, so he was easy pickings for a 7-5 fielder's choice. Rizzo's hot streak couldn't have come at a better time and he is now up to .293 on the year.
The Cubs scored 3 runs with 2 outs tonight as Castro, Ross and Soler each provided timely hits for the offense.
Starlin Castro had some swagger in his game tonight and came through with 2 clutch RBI doubles and made a great stop from his knees and started a double play. He now has 11 doubles and 46 RBI on the year to go along with a .238 AVG. Obviously some room for growth there, but this was the most confident he looked at the plate and if he can get hot, good things will happen.
Jorge Soler is looking comfortable at the plate these days as well and went 1 for 3 with 2 walks (1 with the bases-loaded) and 2 RBI (30 on the year). He hasn't hit for power as of yet, but he looks very much in control with his bat (except for that strikeout on an eye-high fastball)
Jake Arrieta was terrific and pitched 7 shutout innings with only 2 hits (both singles) and 3 walks surrendered. He struck out 5 and improved to 12-6 while lowering his ERA to 2.50. He even added a sharp single on a 99 MPH fastball in his final AB.
Chris Denorfia hit 2nd in the lineup with a lefty getting the start and did his job very well tonight. He finished 3 for 6 with a double (his 9th) and a run scored. He is hitting .289 in his limited ABs, but he provides solid offense and defense for the Cubs as the right-handed portion of the platoon with Chris Coghlan.
Tommy Hunter only needed 7 pitches to get 3 outs tonight (after needing 3 pitches for a save this week against the Brewers). He and Justin Grimm finished the win with a scoreless inning each. They each gave up a hit, but Hunter erased his with a double-play grounder.
The Bad
Nothing bad about this one except for a scary moment when Kris Bryant took a fastball off the back of his left elbow and looked to be in immense pain. At first Cubs fans held their collective breath because it appeared that it was his wrist, but replays showed it was just off his elbow and probably caused his hand to go numb. He stayed in the game and even added a sharp single to left later.
On Deck
The Cubs will finish their abbreviated 2-game series with the Pirates tomorrow evening at 6:05 PM (CST) on CSN. Dan Haren (7-7, 3.42 w/ Marlins) will make his debut for the Cubs after being acquired at the trade deadline. He will face off against another lefty as Jeff Locke (6-6, 4.21) gets the ball for the Pirates.