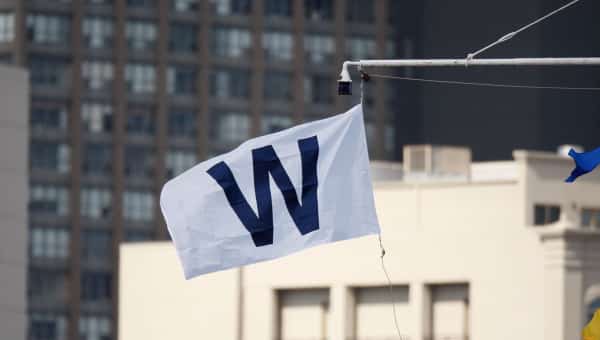 A Tip of the Recap – July 19th
Jake Arrieta pitched a gem and Jonathan Herrera came through in the clutch to help lead the Cubs to a 4-1 victory over the Braves. 
The Good
Jake Arrieta was on point (as usual) today and whirled one heckuva game. He finished with 7 scoreless innings and gave up just 3 hits and 3 walks with 10 Ks. He improved to 11-5 on the year with a 2.52 ERA in just under 130 innings. He did need 112 pitches to get through 7, but he was able to get through innings with some timely Ks. He will get the Fightin' Phils next time out on the mound.
Jonathan Herrera got the start for Russell at 2nd base and came up with a huge 2-out, 2-run single in the top of the 2nd to get the Cubs on the board. He also added another single later in the game and is now hitting .267 on the year with 13 RBI.
Jorge Soler crushed a solo HR to dead-center for the 3rd run of the day. He also added a walk to go along with his 5th homer of the year. He is now hitting .259 and has 24 RBI; hopefully this will be a sign of things to come for him.
Chris Coghlan had a nice day too, going 2 for 4 with a walk and an RBI double in the top of the 9th to score Rizzo (who singled earlier in the inning). He is hitting .249 and now has 20 RBI on the year.
Another day, another 2 times on base for Fowler, who drew a walk and had a single while also adding his 11th stolen base. He didn't score, but one would think with as much as he is getting on base in front of Rizzo, Bryant and Soler, that will not be the norm going forward.
The Bad
I don't like to come down on Kris Bryant that much, but he is kind of scuffling at the dish and has been for a little while now. He went 0 for 3 today with 3 Ks, though he did walk twice. But still, contact has been a real issue lately. He has now struck out 15 times over his last 7 games with just 5 walks and a .130 AVG (0 HRs too). I do think that he will get hot and stay hot here soon, but it would be nice if that happened ASAP.
On Deck
The Cubs head to Cincinnati for 4 games in 3 days; game 1 will be tomorrow evening at 6:10 PM (CST) on CSN. Clayton Richard (0-1, 5.79) will get the ball for the Cubs as he faces off against Michael Lorenzen (3-4, 3.53) for the Reds. Luckily, the Cubs will miss Cueto with him pitching in Sunday's Reds' game.\