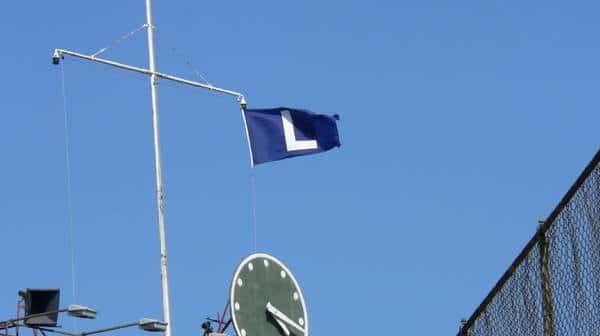 A Tip of the Recap – June 25th
The Cubs dropped the last game of the series and earned a split with the Dodgers after a 4-0 loss today.
The Good
There was not much good out of this one for the Cubs. Anthony Rizzo and Chris Denorfia both had multi-hit days (Denorfia had 2 hits and Rizzo had 3). Rizzo's 3 for 4 day was quite impressive. He had a single and 2 doubles and his 2nd double just missed being a 2-run HR by about 3 feet. He now has 23 doubles on the year with a .312 AVG.
Yoervis Medina put in 2 solid innings of work today and saved the pen from being any further taxed. He gave up just 1 hit and struck out 2 to give him a 2.12 ERA in 5 innings of work thus far as a Cub.
Dexter Fowler pinch hit in the bottom of the 8th and then stayed in the game to play CF, which is a good sign. The lineup just feels and looks better with him leading off, so hopefully he will be back at the top starting tomorrow in St. Louis.
Starlin Castro's 2nd child was born today and Castro was a late scratch from the starting lineup but made it to the game by around the 5th inning and was inserted in the 6th inning, which allowed the Cubs to move Coghlan from 2nd back to the OF. Castro did go 0 for 2, but it was helpful to Joe Maddon to have one more guy off the bench available and I'm sure it wasn't like Castro had a bunch of sleep last night.
The Bad
Jon Lester really struggled with his command early today and was taken out of the game after just 4 innings. He gave up 4 runs (all earned) on 4 hits and 4 walks with 5 Ks. He did sit down 6 in a row in his last 2 innings of work, but was replaced by a pinch hitter with 2 outs in the bottom of the 4th with men on base.
The home-plate ump was less than consistent with his strike zone and at one point it looked like Maddon was going to get tossed for arguing the zone, but either way Lester will probably tell you he stunk today.
The Cubs had lots of opportunities with men on base today, but couldn't come through and get anything done. They were 1 for 6 with men in scoring position and had Chris Coghlan thrown out by about 15 feet when he tried to score on a line-drive hit to LF.
Kris Bryant left the game early with flu-like symptoms (which is a whole lot better than a physical injury), but it really messed up the lineup quite a bit. Herrera came in to play 3rd and was the bat behind Rizzo for the rest of the game, which doesn't quite strike fear in the pitcher's heart.
On Deck
The Cubs will head to St. Louis for one of the biggest series of the season thus far. Game 1 will start at 7:15 PM (CST) and will be televised on ABC 7 and MLB Network. Jake Arrieta (7-5, 3.07) gets the ball after his complete game shutout the last time out and he will face off against John Lackey (6-4, 3.41) for the Cardinals.