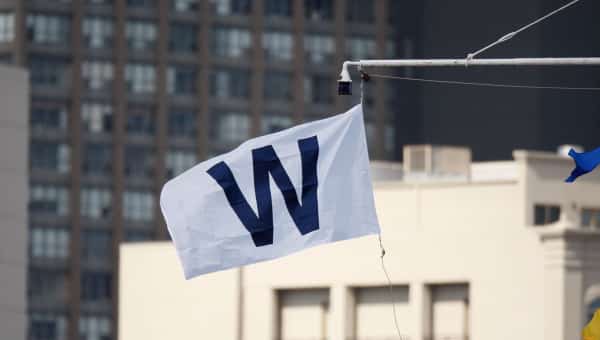 A Tip of the Recap – June 23rd
The Cubs loaded the bases in the 10th and walked off winners on Denorfia's sac fly gave them the win by a score of 1-0 over the Dodgers.
The Good
Jason Hammel provided just what the doctor ordered tonight with a deep start after the pen worked 7 innings last night. He went 7.2 innings and just gave up 2 hits with 2 walks and 6 K's. He lowered his ERA to 2.65 and his WHIP is at 0.9328 (which is pretty awesome).
There wasn't much offense today (only 8 hits between the two teams), but the Cubs did enough to get the win thanks to some big AB's in the 10th inning. Mike Baxter started the frame with a single, then Matt Szczur followed with an infield single, and a walk to Dexter Fowler loaded with nobody out for Addison Russell.
Russell grounded into a fielder's choice to Gonzalez at first, which set the stage for Chris Denorfia to hit the sac fly for the win against a five man infield.
The pen did good work again tonight and they lead the majors in June with a sub-1.40 ERA as a group. Rondon, Strop and Motte all got the job done for the win after Hammel put out a great start.
The Bad
Nothing bad about this one; the Cubs won and the fact that they took the first two from the Dodgers when their starters were Kershaw and Greinke is quite impressive and the team starts to be playing with some kind of confidence right now. They are a season high 9 games above .500 and are now 8-3 in extra-inning games with 9 walk off wins.
On Deck
Game 3 of this 4 game tilt will begin at 7:05 PM (CST) on Wednesday and will be televised on ESPN 2 and CSN. Kyle Hendricks (2-3, 4.28)will look to rebound from his bad outing last time against the Twins (7 runs over 5 innings), as he goes against Chicago born Mike Bolsinger (4-2, 2.87) for the Dodgers.