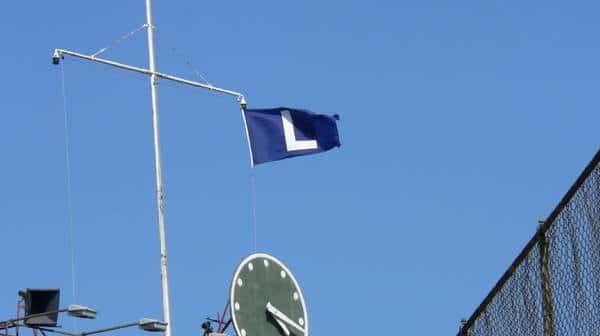 A Tip of the Recap – June 3rd
The Cubs dropped the rubber match and series to the Marlins after a 7-3 loss tonight.
The Good
Anthony Rizzo had a strong game with another double (his 16th) and 2 more walks. He is hitting .317 and getting on base around 45% of the time while leading the team in doubles.
Junior Lake hit a home run and almost started a donnybrook with his bat flip and pimping of his 2-run shot. His HR made the score 6-2 and it probably wasn't the time to showboat, but I could not care less about the whole "should he have pimped the HR or not" debate. I appreciated the fire shown by Lake as the team has looked flat during this series.
Addison Russell had a 2-hit day, going 2 for 4 to bring his average to .255 and he was also part of an odd baserunning blunder by Dee Gordon. Gordon beat the throw to 2nd on a force play from Castro but thought he was out, so he started to jog back to the dugout. Russell calmly jogged after him and when Gordon realized what had happened, Russell made a quick throw to Bryant for the out.
The Bad
This was a start that Jon Lester would probably rather forget about. He only made it through 5 innings and gave up 6 runs (all earned) on 9 hits (2 HRs), a walk and 4 K's. His ERA rose to 3.86 and his record is now 4-4 on the year.
Travis Wood continues to struggle with his new role as he gave up another earned run on 2 hits. He and Edwin Jackson are basically two arms that can't be trusted in close games at this point. Eventually that will have to be addressed; you can't have that on a team that wants to contend.
It really stings to have the Cubs continue to lose all these series against teams that are not having great seasons. They have lost series to the Brewers, D-Backs, and now Marlins, going a combined 4-8 in the games against these 3 teams.
On Deck
The Cubs will move on to DC for a 4 game series with the Nationals. Jake Arrieta (4-4, 3.18) will look to right the ship for the Cubs against Gio Gonzalez (4-2, 4.73) for the Nationals. Game 1 is scheduled for 6:05 PM (CST) and will be shown on WGN and the MLB Network.