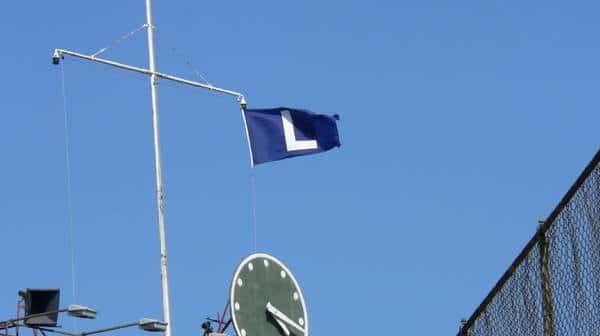 A Tip of the Recap May 29th
The Cubs lost the series opener to the Royals this afternoon by a score of 8-4.
The Good
Jake Arrieta had an odd start. He was efficient and made it through 7 decent innings of work, but he gave up 3 solo HR's and another earned run on 8 hits, but had no walks with 5 K's. It wasn't a bad start and he kept the Cubs in the game on a good day for offense.
Kris Bryant had a 2-hit day with an RBI double (6th double, 32nd RBI) and a single. He is up to .282 on the year and his 32 RBI leads the team.
Jorge Soler hit his 4th HR (a 2-run sh0t) in the 6th inning off of Volquez to cut the deficit to 4-3. He is now hitting .276 and has driven in 18 on the year.
Addison Russell is looking better and better every day out at the plate. He had a 2 for 4 day with his 12th double and his 4th HR (a solo shot) to tie the game up at 4-4 in the 7th inning.  He is now hitting a solid .260 on the year and who would have thought he would have the same number of HRs as Soler at this point?
The Bad
Dexter Fowler contributed zilch on offense with an 0-5 day at the plate to drop his average to .240 for the year. He also made an error on a line drive hit to him in the 8th inning that allowed 2 runs to score. He hasn't been as bad on defense as advertised, but I wouldn't call him an asset either.
Pedro Strop continued his up and down ways with a rather down performance again today. He walked the leadoff guy on a full count and Lorenzo Cain followed with an RBI double to give the Royals the lead 5-4, and the Royals tacked on 2 more via Fowler's error and a lead that size in the 8th inning or later is pretty much a death blow against the Royals' pen.
The Cubs struck out 15 more times today with 6 guys striking out 2 times each. There are going to be some growing pains with this young team and this is just a rough stretch at this point; the big thing is that Bryant, Soler and Russell carried the offense today, which was good to see.
On Deck
It won't get easier tomorrow in game 2 as the Royals will send Yordano Ventura (3-4, 4.60) to the hill against Tsuyoshi Wada (0-0, 2.70) for the Cubs. The game starts at 6:15 PM (CST) and will be shown nationally on Fox.