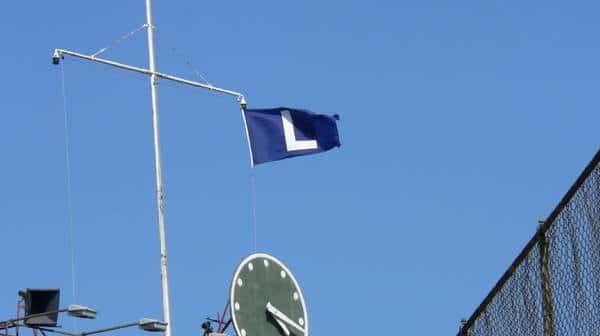 A Tip of the Recap – May 10th
The Cubs dropped the rubber match with the Brewers today with a 3-2 loss in 11 innings.
The Good
Miguel Montero got the Cubs on the board with a solo HR in the 6th off of Matt Garza. It was his 4th HR, 14th RBI and he is now hitting .299 on the season.
Anthony Rizzo went 2 for 5 including a game-tying double in the 8th to knot things up at 2-2. It was his 7th double and 18th RBI and his .330 AVG leads the team.
Kyle Hendricks needed a good start after the way he has begun the season and he had just what the doctor ordered today. He did go just 5.1 innings, but they were all scoreless and he gave up just 5 hits (all singles),walking 2. It was by far his best outing of 2015 and hopefully he will get a little more consistent from now on for the Cubs.
Justin Grimm (2/3 inning), Pedro Strop (2 innings) and James Russell (1 inning) produced some solid work out of the pen today. It was especially good to see Strop do as well as he did considering he has had a few rough outings recently.
The Bad
Zac Rosscup, who had been doing just fine, gave up back-to-back solo shots to the Brewers today to turn a 1-0 lead into a 2-1 deficit.
Jason Motte gave up the winning run and gave up 2 hits and walked 2 (both intentionally). The run scored on a single to RF and that was the ball game.
The Ugly
Another day, another astronomical number of K's for the Cubs; they struck out 16 more times today including 3 by Bryant and 2 each by Soler, Castro and Russell. Contact is going to be an issue, but maybe the 2-hole is not the right place for Bryant to be. I could see Russell moving that way after he gets a little more settled in, or even Castro, but I'm just not liking Bryant in that spot with his enormous K-potential.
It stings a bit to have the Cubs drop two series to the Brewers; granted it is only a total of 6 games, but May is not quite starting off as well as April ended. Hopefully that changes here in the next week and the Cubs start piling up W's.
On Deck
The Cubs will look to move forward tomorrow when the start a four-game series vs. the NY Mets. Jon Lester (2-2, 4.04) will get the call for game one against Jacob deGrom (3-3, 2.95) for the Mets. Game 1 starts at 7:05 PM (CST) and can be seen on CSN.