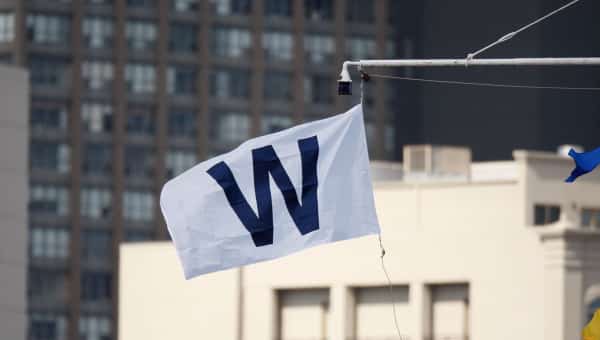 A Tip of the Recap – April 12th
The Cubs came all the way back to snatch victory from the jaws of defeat and beat the Rockies by a score of 6-5.
The Good
Dexter Fowler came up clutch (SUPER CLUTCH) with the go-ahead 2-run HR to right with 2 outs in the top of the 9th and down 0-2 in the count against LaTroy Hawkins. It was a no-doubt-about-it shot and capped the 3-run 9th inning to give the Cubs the lead for good.
Chris Coghlan reached base all 3 times today with 1 double and 2 walks. He also added a stolen base (1) to get himself to 3rd with less than 2 outs, but no one was able to drive him in from there.
Arismendy Alcantara found his way on base two times today, once via a walk and the other by reaching on an error. He also stole a base and scored 2 runs.
Welington Castillo had a huge pinch-hit RBI single that kept the game alive for Dexter's heroic hit and even more impressive for him is the fact that he had just 3 ABs to start the day, so it isn't like he was coming in hot.
The pen was on point again today, finishing the final 4.2 innings with only 3 hits, 0 runs, 0 walks, and 5 K's. Motte, Coke, Ramirez and Rondon shut the door with Ramirez getting the win and Rondon the save.
The Bad
Anthony Rizzo hasn't looked himself thus far; he is getting on base at an impressive clip, but he struck out 3 times today and is only hitting .143 through 5 games (super small sample size). He did come up with the sacks packed and hit a sac-fly, but other than that he looks a little slow on fastballs.
The Ugly
Kyle Hendricks wasn't great today and he only lasted 4.1 innings, giving up 5 runs (all earned) on 8 hits, 1 walk and 3 K's. He could have been helped out by some things breaking his way; like a ball back up the middle that he deflected that probably would have been a DP if it went untouched.
In all, it wasn't a terrible start, but he didn't have his normal command and that could be due to the fact that it had been over a week since he last pitched in a game.
Also, Chris Coghlan could have possibly made a play on a bases-clearing, 3-run triple by DJ LeMahieu, but he didn't and the Rockies hung a crooked number on the scoreboard.
On Deck
The Cubs return home to Chicago to start a 3-game series with the Cincinnati Reds. Game one will feature Jon Lester (0-1, 6.23) vs. Mike Leake (0-0, 4.76); first pitch is scheduled for 7:05 PM (CST) and will be shown on CSN+.